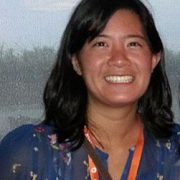 STEPHANIE NGAN is the Worker Health and Safety Curriculum Developer for the project collaboration between UCLA-LOSH and the IATSE Entertainment & Exhibition Industries Training Trust Fund (TTF).
The TTF was established in 2011 to facilitate and support training for IATSE members and those working in crafts represented by the IATSE, and making training opportunities available to help individuals advance in their crafts and job performance with an eye towards promoting industry-wide recognized standards for safety and craftsmanship in the entertainment and exhibition industries.
Ms. Ngan takes on the lead role in creating customized entertainment health and safety modules in consultation with content and technical experts from IATSE locals throughout the industry and with occupational health, safety and adult education experts from LOSH.
Before joining LOSH, Ms. Ngan received her BA at UC Berkeley in Biology and her MPH at the University of Illinois at Chicago School of Public Health in May of 2014.  Her capstone centered on the correlations between hospital injury rates and OSHA 300 logs.  She has received training in emergency action planning through an emergency medical technician course, and she has had experience conducting ergonomic assessments, creating hazard datasheets, and conducting hospital safety walk-throughs and audits.