Report and Factsheets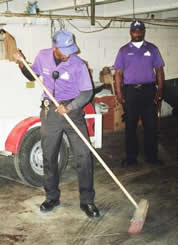 This LOSH report is based on data from the 2008 Unregulated Work Survey of workers in low-wage industries in New York, Los Angeles, and Chicago. A subset of about 600 respondents in that survey indicated they had been injured on the job in the prior three years. This project analyzed information provided by these respondents for insights regarding injured workers' interactions with employers, access to medical care, and likelihood of filing workers' comp claims.
Analysis revealed significantly higher rates of injury among men, undocumented residents, those whose primary language was Spanish, and those working in the construction industry. Over half of respondents who experienced a work-related injury indicated their employer reacted negatively to the injury – common employer reactions included pressuring workers to work despite injury, firing them shortly after injury, and/or threatening them with deportation or firing. Only 11% of respondents said their employers provided them with a workers' compensation claim form and/or told them to file. Undocumented residents were significantly more likely to experience negative reactions from employers following injury, less likely to seek medical attention, and less likely to file for workers' compensation.
Funding for this project was provided by the California Commission on Health and Safety and Workers' Compensation.