Improving Employee Health & Safety in California Schools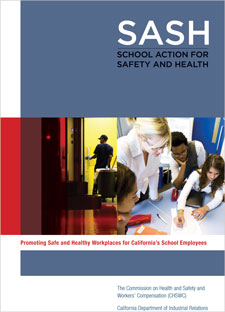 The School Action for Safety and Health (SASH) Program is a statewide initiative to help school districts reduce the high rate of work-related injuries and illnesses among school employees.
School employees have a higher-than-average rate of job-related injuries and illnesses when compared to all industries in California, according to the California Department of Industrial Relations. Common hazards faced by school staff include chemicals, ergonomic hazards, infectious disease, poor indoor air quality, trips, slips, and fall hazards, and stress.
The SASH Program offers:
A free training program to help build the capacity of district-level health and safety coordinators to be resources to other employees and develop an injury and illness prevention program to identify, prevent and eliminate hazards.
Written materials that support injury and illness prevention.
Problem-solving assistance provided by a statewide resource center.
SASH Resource Center
The SASH Resource Center is located at UC Berkeley's Labor Occupational Health Program (LOHP). In collaboration with LOSH, the Resource Center is available to help school districts find additional information and obtain assistance after training sessions.
For more information about SASH, please contact Sarah Jacobs at sjacobs@irle.ucla.edu.