LOSH trains more than 2,000 workers every year. Our training caters to the specific industry, language and adult learning needs of a variety of workers who are typically low wage immigrants and/or workers in the under-served or high-risk occupations.
Take a look at our short video, click here.
Peligros de trabajar en el calor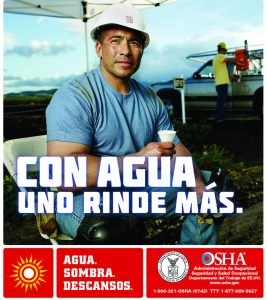 Cada año, decenas de trabajadores mueren y miles más se enferman mientras se trabaja en el calor extremo o condiciones húmedas. Más del 40 por ciento de las muertes relacionadas con el calor de los trabajadores se producen en la industria de la construcción, pero los trabajadores en todos los campos son susceptibles. Hay una serie de enfermedades por el calor y pueden afectar a cualquier persona, independientemente de su edad o condición física.
Para obtener más información, visite el sitio web de Prevención de Enfermedades por Calor de Cal/OSHA.
Water. Rest. Shade.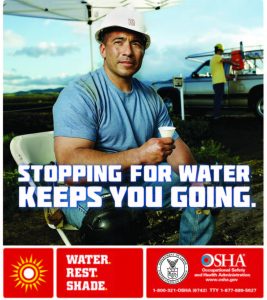 Every year, dozens of workers die and thousands more become ill while working in extreme heat or humid conditions. More than 40 percent of heat-related worker deaths occur in the construction industry, but workers in every field are susceptible. There are a range of heat illnesses and they can affect anyone, regardless of age or physical condition.
For more information, visit Cal/OSHA's Heat Illness Prevention web site.