Training of Trainers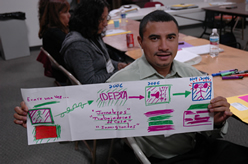 Interested and eligible WOSH Specialists are invited to attend the advanced Training of Trainers course. This four-day session is offered once a year in English and Spanish and prepares WOSH Specialists to assist WOSHTEP staff in conducting trainings and supporting other WOSHTEP activities.
Currently, the WOSH Trainers Network has more than 35 trainers who represent a variety of workplaces and organizations.
Eligibility criteria for WOSH Trainers
Can reach high hazard workplaces and high risk workers
Can reach large number of workers/workplaces
Can reach workers with workplace health and safety responsibilities
Can extend geographic reach of program
Has workplace health and safety training expertise
Can conduct open enrollment classes
Preferably bilingual
For more information about this program or to schedule a customized training please contact loshinfo@ucla.edu.