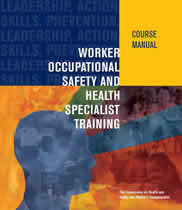 The Worker Occupational Safety and Health Training and Education Program (WOSHTEP) curriculum enhances leadership skills and promotes active participation in injury and illness prevention activities in the workplace. Our training courses are especially appropriate for workers with significant health and safety responsibilities, such as those serving on a health and safety committee; those designated by employers or unions as safety representatives; and those who will later train their co-workers about health and safety issues.
WOSHTEP also trains workers in California to become Worker Occupational Safety and Health (WOSH) Specialists, enhancing leadership skills and promoting active participation in injury and illness prevention in the workplace. Interested candidates attend a 24-hour course where they are introduced to key occupational safety and health concepts through both the core and supplemental curriculum.
All training courses are offered in both English and Spanish and are free of charge. Participants who complete all 24 hours of training receive a Certificate of Completion from UCLA and the California Commission on Health and Safety and Workers Compensation.
Training Goals
The aim of this program is to provide participatory training that builds upon workers' knowledge and experiences. The training increases participants' ability to:
Promote effective safety programs;
Identify hazards on the job;
Evaluate hazard control measures;
Understand health and safety rights and responsibilities;
Explain the legal requirements for maintaining a safe and healthful workplace and support employers' compliance efforts;
Participate actively in injury and illness prevention efforts in the workplace.
Serve as a health and safety resource for others, including co-workers, workplace health and safety committees, unions and employers; and
Contribute to reduction of workers' compensation costs through preventive actions and early return-to-work efforts.
The curriculum is based on principles of adult education: participatory, hands-on, practical, focused on skill building, expanding on participants' own experiences, and incorporating diverse learning methods.
The training is designed to work in a variety of settings for a variety of occupations. It includes activities that can be tailored and modified for various target audiences. The material can later be taught by building on their own experience in occupational health and safety.
Materials and Resources – a Health and Safety Resource workbook and access to our English and Spanish resource library
Networking – Opportunity to share ideas and strategies with workers from other industries
Certification –  Workers will receive a certificate of completion as a WOSH Specialist
Ongoing Technical Assistance and Support – Specialists can contact LOSH staff members for ongoing assistance
For more information about this program or to schedule a customized training please contact loshinfo@ucla.edu.