Community Outreach: Health Promotoras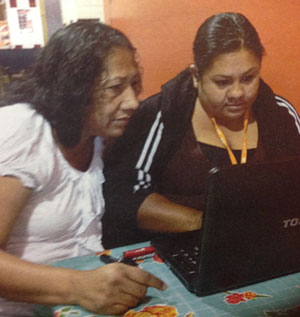 LOSH trains approximately 2,000 workers per year in bilingual community outreach and communication courses. LOSH makes a special effort to reach immigrant workers using innovative, community-based approaches built on partnerships and on the use of familiar community settings and participatory formats.
Over the past several years, LOSH has relied on Spanish-speaking promotores to reach the large Southern California immigrant workforce—largely non-union, often employed in the underground economy and with limited access to occupational health information and resources through employers or unions. These promotores have implemented LOSH outreach and education programs through Mexican and Central American consulates, at day-labor job centers, at community events (i.e., health fairs), on street corners, and more.
LOSH bilingual staff have developed short sessions on key, introductory health and safety topics, which are then taught by promotores at the Consulates while people wait for paperwork to be processed. The sessions are built around case stories, illustrations, and pictures, and creates a dialogue among those waiting at the consulates about specific hazards and unhealthy working conditions as well as workers' rights and community resources.
These education sessions provide awareness on a diversity of workplace safety and health topics, including worker protection and injury and illness prevention. They also provide an opportunity for community health promotores to take part in activities and training to develop their skills at promoting occupational safety and health in their communities.
Details about Awareness Sessions
Arranged in two- to four-hour interactive training sessions
Emphasize training for informal and/or high-hazard industries and non-English speaking workers
Engage workers through participatory activities and use of visual tools
Motivates workers to participate and take on leadership roles
Introduce basics of workplace injury and illness prevention and rights and responsibilities of workers and employers
Target specific needs of the worker population
Build capacity of community-based organizations to address workplace health and safety issues
Awareness Modules
Preventing Workplace Injuries and Illnesses: Awareness Session Workbook (English version) (Spanish Version)
Preventing Workplace Injuries and Illnesses: Awareness Session Cards (English version) (Spanish Version)
For more information about this program or to schedule a customized training please contact loshinfo@ucla.edu.