Helping Small Business Owners Improve Workplace Health & Safety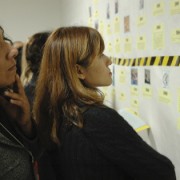 WOSHTEP conducts training sessions for small businesses that do not have the number of total employees required to attend the WOSH Specialist training sessions. These training sessions last roughly two hours and are free of charge for all participants.
Business owners, managers, and supervisors who attend the two-hour sessions frequently give positive feedback about the experience and its interactive teaching philosophy. Follow-up from external researchers also shows improved health and safety practices in the workplaces of participating businesses.
Our Training Materials Help Your Employees Learn
How to identify safety hazards in their workplace
How to find solutions to hazards in their workplace
Methods to contribute to a safe working environment
"This program was a great experience. We ended up with simple training materials that I can use with my staff to teach about health and safety in our restaurant. It's amazing the respect they have for the safety situation now."
Overview
Free of charge
For owners, managers, and supervisors
Two hours in duration
Available in English or Spanish
Safety training materials to use in the workplace
How the Program Helps Small Business Managers and Owners
It provides a one-hour interactive safety training tailored to your business
You learn how to engage employees in your safety program
You will identify ways to prevent injuries in your workplace
The course meets Cal/OSHA training requirements
For more information about this program or to schedule a customized training please contact loshinfo@ucla.edu.