Innovative Approaches to Measure Training Impact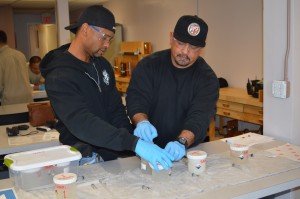 LOSH has extensive expertise in worker training evaluation and the development of innovative approaches to assess training impact. The overall goal of LOSH training is to support workers in making improvements to their workplaces and reducing work injuries, illnesses, and deaths.
LOSH's core evaluation approach focuses on various levels of course quality and impact – students' assessment of course content and instructors, knowledge and skills gained, intent to take actions to address health and safety in the workplace, and actions take to reduce or eliminate hazards. We also consider opportunities for workers to take H&S leadership roles at their worksites by designing and implementing H&S programs and participating on H&S committees.
Recent LOSH evaluation efforts have also examined how specific training and support activities have expanded the capacity of worker organizations to address the health and safety concerns of their members.
Examples of LOSH worker training evaluation projects include:
Kevin Riley, Craig Slatin, Carol Rice, Mitchel Rosen, B Louise Weidner, Jane Fleishman, Linda Alerding, Linda Delp. Managers' perceptions of the value and impact of HAZWOPER worker health and safety training. American Journal of Industrial Medicine, 58(7): 780-787. 2015.
Linda Delp, Kevin Riley. Worker engagement in the health and safety regulatory arena under changing models of worker representation. Labor Studies Journal, 40(1): 54-83. 2015.
Kevin Riley, Linda Delp, Deogracia Cornelio, Sarah Jacobs. From agricultural fields to urban asphalt: The role of worker education to promote California's Heat Illness Prevention Standard. New Solutions, 22(3):297-323. 2012.
Brian Cole, Marianne Brown. Action on worksite health and safety problems: A follow-up survey of workers participating in a hazardous waste worker training program. American Journal of Industrial Medicine, 30(6):730–743. 1996.
Marianne Brown, Nga Nguyen-Scott. 1992. Evaluating a training-for-action job health and safety program. American Journal of Industrial Medicine 22(5):739–749. 1992.