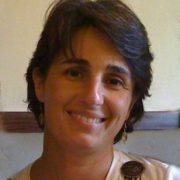 DR. RANIA SABTY-DAILY is a Technical Specialist and Industrial Hygienist at UCLA-LOSH. She provides technical assistance and develops training curricula and is a consultant on a variety of educational projects. She also collaborates with worker centers, environmental justice organizations, and others on new initiatives such as Safe Workers Safe Communities and Heat Illness.
Dr. Sabty-Daily has an MPH degree in Industrial Hygiene and a PhD degree in Environmental Health Sciences from the UCLA School of Public Health. She is multi-lingual (including English and Spanish). She is a Registered Environmental Health Specialist (California) and has a strong background in recognizing, evaluating, and controlling environmental hazards with the skills and experience to train workers and community members. Dr. Sabty-Daily brings 12 years of extensive experience with occupational and environmental health curriculum development and teaching in the classroom, on-line, and in community-based programs.
Dr. Sabty-Daily's research experience is based in workplace, laboratory, and community settings. Her previous projects include assessing aerosol particle size distribution and potential worker exposure to chromate containing paint in the aerospace industry and using a community-based participatory approach to identify and mitigate environmental hazards to children in a largely Latino low-income public housing community. Most recently she initiated a study at a nearby school to reduce children's exposure to near-roadway air pollutants, utilizing a community-participatory approach to assess needs, set priorities, determine methodology, monitor air pollutants, install air filtration systems, and evaluate the impact of intervention on indoor air quality.
She currently holds teaching appointments at two universities, California State University Northridge and Trident University International, where she develops curricula and provides instruction at undergraduate and graduate levels in the areas of environmental and occupational health.